Painting is an adventure – whether en plein air or dans l'atelier.   This page highlights some of our French Creek Art Colony plein air adventures.
Comments are welcome.  Click on any photo, then click on "leave a comment."
Damariscotta, Maine – August 2012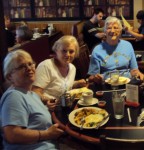 Annette, Terry & Pat – 1st of many breakfasts at Salt Bay Cafe.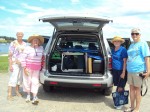 Maggie Mimi Annette & Pat – how to pack four for plein air.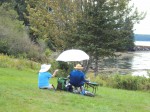 Annette & Terry at Fort William Henry, Pemaquid Beach.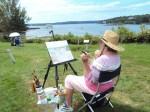 Mimi & Terry at Fort William  Henry.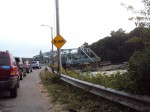 Bridge swinging to close after sailboat has gone through.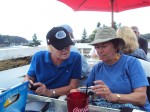 Terry & Judy taking a lunch break at Coveside Cafe, Christmas Cove.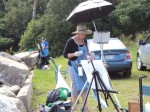 Maggie & Terry at Christmas Cove.

Annette enjoying her plein air view.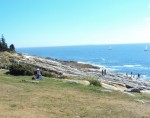 Annette painting on Pemaquid Point – in white hat way back by the rocks.

Maggie Terry Annette and Pat at one of Damariscotta's many shops.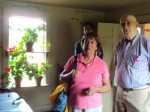 Judy and John in Christina's kitchen at the Olson farm learning which of Wyeth's paintings were painted in Chadds Ford, PA and which were actually painted here at the Olson home in Maine.  Don't those geraniums in the window look familiar?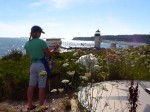 What fun to run into Elise at the Farnsworth Museum!  We knew she was somewhere in Maine participating in a workshop.
Here is Elise painting Marshall Point Lighthouse in Port Clyde.