Mimi Barclay Johnson, Maggie Leiby, Leigh Glenn, Elise Phillips, Judy Antonelli, Beth Kempf, Terry Boyle, Valerie Craig, Jill A. Rupinski, Jane Golas. Barbara Berry, Bill Ternay, Mick McAndrews, Carol Kardon, and Fred Danziger. Emeritus: Peggy Binns, Annette LeMaire. Lest We Forget: Beverly Fuller Garnett.

MIMI BARCLAY JOHNSON, founder and member of the French Creek Art Colony, grew up in a home filled with paintings by the American Impressionists which gave her an early love of art. After a successful stint as a stage/set/scenery/lighting designer for primarily opera companies and after studying with Pennsylvania Academy of Fine Arts instructors/professors such as Tom Gauhan, Homer Johnson, Beverly Garnett, and Jill Rupinski, she focused on creating fine art. Mimi attended workshops with Mel Stabin and soon began workshops of her own on the mainland and on Long Beach Island as well as teaching watercolors privately from her home studio. With paintings in private, public and corporate collections, Mimi has had 22 invitational solo shows and continues to be juried into local, national and international fine art shows where she has won numerous awards. A member of Critters, Delaware Valley Art League, The Franklin Inn Club (for writers and illustrators), French Creek Art Colony which she founded, Network, Painters Circle, Plein Air Painters of Delaware Valley, Philadelphia Water Color Society where she is a Signature Member and former Recording Secretary of the Board and Society, and Society of Children's Book Writers and Illustrators, Mimi is represented by the Franciska Needham Gallery in Damariscotta, ME, and, in May, by the Art Gallery at Devon Horse Show. Mimi's paintings may be viewed at her Art Studio in Bryn Mawr, PA by appointment and on her website www.mimibarclayjohnson.com.
MAGGIE LEIBY – Maggie Leiby, Leigh Glenn and the late Beverly Garnett were the earliest members of the French Creek Art Colony. A Bucks Countyartist, Maggie is an award winning oil painter, dividing her time between plein air painting and studio work. Maggie has a BA in Studio Art from Kennesaw State University in Georgia, graduating Magna cum Laude in 1994. She has studied at the Pennsylvania Academy of Fine Arts, Studio Incaminati and Barnstone Studio. Representation is through Patricia Hutton Galleries in Doylestown, Pa. and The Upstairs Gallery in Peddler's Village, Lahaska, Pa. Maggie teaches oil painting classes from her home studio and through the Doylestown Art League. To view more of Maggie's artwork please visit her website: www.maggieleiby.com.
LEIGH GLENN – Following college and study at the Art Students League and Parson's School of Design in New York, Leigh worked in the decorative arts field. With her partner she established Blanchard and Glenn; a decorative arts group. Leigh created murals, painted floors, fabric and faux finishes in both private and commercial properties over the East Coast and Metropolitan New York area. For over twenty years her work carried her to areas such as the Hamptons, New York City, Connecticut, New Jersey and Virginia. Blanchard and Glenn's work brought about publishings in the New York Times home section and House Beautiful Magazine. The experience of developing color schemes for this work furthered her interest in color harmonies. Leigh was a long time resident of Cold Spring Harbor, New York. In 1996 she moved to Chester County, Pennsylvania where her work has been focused predominately on fine arts painting. She has studied with many outstanding artists: Janet Walsh, Nancy Barch, G.A Sheller, Frank Francese, Skip Lawrence and others. She is a member of the Philadelphia Watercolor Society, The Delaware Valley Art League, and French Creek Art Colony. Her paintings have been shown in juried shows locally and in galleries in Corea, Maine, in Phoenixville. Pennsylvania and in the New York area. Leigh is one of the earliest members of French Creek Art Colony and can be reached at frenchcreekart@gmail.com .
ELISE PHILIPS was born in Wayne, Pennsylvania into a family with an extensive background in the fine arts. Her great, great grandfather founded Newman Galleries in Philadelphia in 1865, and today she is the fifth generation of the family to exhibit there. A graduate of The Hussian School of Art in 1983, Elise became an accomplished illustrator and graphic designer with many successful commissions in the business community. With an inherent interest in painting, Elise enrolled at the Pennsylvania Academy of Fine Arts, emerging well schooled in the tradition of the Academy. Elise has for many years maintained a studio in Elverson, Pennsylvania, where the bucolic countryside is a source of inspiration for many of her paintings, as is the Eastern shore of Maryland, where she is a frequent visitor. An award winning exhibitor, she is a signature member of the Philadelphia Water Color Society, a member of the Philadelphia Sketch Club, the Chester Springs Studio, Artists Circle, Flying Colors, and an early participant of the French Creek Art Colony. Her paintings can be found at Newman Galleries in Philadelphia, PA, Parke Schaffer Fine Art Gallery in Eagle Village Shoppes, Wayne, PA. Grafton Galleries in Easton MD, and at E.N.Phillips Studio in Elverson, PA. To contact Elise, go to elise@enphillips.com or to www.enphillips.com.
JUDY ANTONELLI's work has her own unique impressionistic flavor and is full of feeling. Judy attended Philadelphia Art Museum School, Drexel University and Barnstone Studio and has studied with nationally known teachers. A watercolor teacher for 30 years, she also paints in pastel, oil and acrylic. She has had 32 shows, and has won many local and national awards. Her work has appeared in the Spring 1993, and featured in the Spring 2007 Watercolor issues of "American Artist," and in the Artist's Edition of "The Four Seasons of Chester County." Judy is a signature member and Vice President of the Philadelphia Water Color Society, and a signature member of the Pennsylvania Watercolor Society. Her work is in numerous private and corporate collections. Judy is represented by Hardcastle Gallery, Centreville, DE and Longwood Gallery, Kennett Square, PA. Judy can be reached at antonelliart@verizon.net.
BETH KEMPF spent her childhood years drawing people and designing dresses! The creative urge took other forms as she progressed in school. By junior high school, Beth had to decide between girl's chorus and art. Although she was disappointed in having to choose, there was no hesitation – art was her first love. Beth still has her first oil painting – that of an old academy on the junior high school grounds. The artistic inclination came from her mother who had become an art teacher, overcoming many obstacles. With her mother's encouragement, Beth continued to paint on her own with oil. In high school as an art major, Beth was privileged to have Bill Bahmerman, Academy of Fine Arts graduate, as her instructor and mentor. From there she went on to study in the art education department at the Philadelphia College of Art, now known as the University of the Arts and, after graduation, taught art at the elementary level. Beth continues to create in oil paint, water color paint, and oil pastels. She is a member of and exhibits with a variety of organizations including Artist Equity and Delaware Valley Art League, French Creek Art Colony, Network (a critique group), and Painters Circle. Beth can be reached at frenchcreekart@gmail.com .
TERRY BOYLE was influenced early in life by her grandfather, Norwegian painter Edward Hiortdahl. She was born and educated in Pennsylvania and attended the Pennsylvania Academy of Fine Arts ("PAFA"), where she studied under notable artists such as John McCoy, Maurice Blackburn, Hobson Pitman, Jack Bookbinder, and Harry Rosen. Her studies at the Academy have enabled her to work in most mediums. She is an alumni member of PAFA. Memberships include Artists Equity, Delaware Valley Art League, French Creek Art Colony, Network, a critique group, Painters Circle, The Philadelphia Water Color Society ("PWCS") where she is a signature member, and Wayne Art Center. Presently, she is a board member of PWCS. In previous years she has served on the board of Wayne Art Center, The Community Garden Club at Wayne, and Jenkins Arboretum where she co-chaired three art shows. Terry is C0-Chair of both the 111th PWCS and the 112th PWCS Anniversary International Exhibition of Works on Paper. She has received numerous awards in local and regional shows, and is represented in many private and business collections. Terry can be reached at teyboyle@comcast.net.
VALERIE CRAIG has drawn and painted nearly all her life. Her oil and watercolor paintings are suffused with soft light and convey a sensitive approach. Valerie's subject matter is varied and includes still-life, landscapes and street scenes. With more than twenty years in the field to date, she has studied with accomplished artists, including Scott Christensen, Michael Doyle and Kenn Backhaus and, like most artists, continues to be a student of art, always reaching for a higher level of excellence. In 1998, she left her career in nursing administration to pursue her passion for painting and her love of the outdoors. She feels that her best expressions happen when she is on location and can directly sense the mood and atmosphere of a particular scene. Whether painting vast open areas or intimate spaces, she finds that capturing light and color is best accomplished through close observatio.n and careful study. Valerie paints en plein air whenever she can, then often completes larger canvasses in the studio. Craig travels frequently to Ireland and as well as within the United States, teaching workshops and seeking inspiration and opportunities to paint in the field. She values her teaching and administrative experiences as having increased her perspective as an educator and artist. To contact Valerie, go to valeriecraig2@verizon.net or to http://www.valeriecraig.com.
JILL A. RUPINSKI pursued formal training at the Pennsylvania Academy of the Fine Arts (PAFA), majored in painting, and received a four-year Certificate in 1977. She went on to earn a Bachelor of Fine Arts Degree from the Philadelphia College of Art in 1981, which is now the University of the Arts, Philadelphia, PA. Independent study with various portrait and landscape artists, Lajos Markos, Wolf Kahn, Louis B. Sloan and Roswell Weidner has had a notable influence on her. Jill focuses on both portraiture and landscape, and has painted many commissioned portraits. She has also woven a narrative content into her portraiture and landscape imagery. For the past decade she has drawn inspiration from contemporary issues and events specifically for her landscapes.
Once she obtains her idea she works from drawings, oil sketches, memory and imagination using classical compositional devices and traditional materials. Among her numerous awards she is a 1997 recipient of the Percy Owens Memorial Award for a Distinguished Pennsylvania Artist, from the Fellowship of
the Pennsylvania Academy of the Fine Arts, and a 1976 William Emlen Cresson Memorial Travel Scholarship from PAFA. Her work is in the collections of Arcadia, Colgate, Villanova Universities, University of Pennsylvania, and the Federal Reserve Bank of Philadelphia, PA. In addition to her studio work, Jill is
a Full Professor at the Pennsylvania Academy of the Fine Arts in Philadelphia, PA. She has taught for over twenty years at PAFA and at the Wayne Art Center,
Wayne PA. For the past three years she has been invited to instruct pastel techniques at the Maurice River School at the Barn Studio, Millville, NJ. Her work
is represented by Cerulean Arts Gallery and Studio in Philadelphia, PA. Jill can be reached at jillrupinski@gmail.com .
JANE GOLAS grew up in Cynwyd and made her way west, living in Wayne for the past 25 years, down the street from her sister Kate and her family – –
which Jane describes as being "So Philadelphian." Educated at the Barnes Foundation School of Horticulture, Jane received her MFA from Catholic University of America, her BFA from Rosemont College and her SCUBA certification in the Bahamas where she visits family and paints. Exhibits, recent juried and invitational shows include Wayne Art Center, Main Line Art Center, Woodmere Art Museum Open, Pennsylvania Horticulture Society, Gallery West, Alexandria Virginia, Gateway Gallery, and Bimini Bahamas. Jane has contributed her considerable talents to the Radnor Township Shade Tree Commission, Rosemont College Library Board, Philadelphia Zoological Society, Exhibits department; background painting, Small Mammal House, Reptile House, and the old Rare Mammal House; large exhibit displays and signs for the garden, rocks, trees – Jane wonders "maybe that's where the tree thing started." Jane is currently a member of the French Creek Art Colony, Wayne Art Center, International Society of Arborculture, Hardy Plant Society, and the Community Garden Club of Wayne. Jane can be contacted at: frenchcreekart@gmail.com .
BARBARA BERRY In her earliest memories Barbara would stand, watching, while her mother did charcoal and pastel portraits of the neighbors and their children. Occasionally she would tag along to her mother's art class at the studio in Yellow Springs where Barbara would be allowed to draw the still life or model. In 8th grade Barbara was featured in the middle school lobby in her first one man art show. She had always expected to be an artist one day, but in high school she began singing, writing songs and playing guitar. After receiving her undergraduate degree in classical vocal performance, Barbara moved to Germany, acquiring a position as the lead lyric soprano with Opera Trier and singing in many German opera houses as a guest soloist. After returning to the United States with her husband and first child, Barbara sang with The Lyric Opera in New York City and is now a featured soloist with the Mendelssohn club of Philadelphia and the Jubilate Deo Chorale and Orchestra in New Jersey. While raising three children, Barbara takes art classes at the Wayne Art Center, where she won the Delaware Valley Art League award in a juried show for a pastel figure study, and paints with the French Creek Art Colony. Barbara can be reached at barbaraberry@verizon.net .
BILL TERNAY was raised on a farm in Olivet, New Jersey, where his parents also ran the local country store. He is a 1964 graduate of what is now the University of the Arts, in Philadelphia, PA. During his over forty-five year career as an illustrator and painter he has done everything from set design for the Mike Douglas Show, advertising illustration, children's books, murals, portraits and landscape paintings in a variety of mediums. Bill's courtroom drawings have appeared on all of the TV networks. Bill has taught at the University of the Arts. the Mainline Art Center, and the Wayne Art Center, in Pennsylvania. He was Chairman of the Illustration Department at Moore College of Art and Design from 1989 to 1993. He currently teaches at the Barn Studio of Art in Millville, New jersey, where he is also Coordinating Instructor for the annual Maurice River Landscape Painting Workshop. Bill has taught workshops in Provence, France, the Noyes Museum in New Jersey, and at Mt. Cuba and Winterthur botanical gardens, in Delaware. Bill is a past President of the Philadelphia Water Color Society. His oil and water color paintings are represented by Hardcastles Gallery, in Centerville, Delaware. He has exhibited and won prizes in juried shows throughout the United States, including the "Arts For The Parks" competition in Jackson Hole, Wyoming. Bill lives in Bala Cynwyd, Pennsylvania. His favorite places to paint are in the South Jersey farmlands and wetlands of his youth, along the Schuylkill River, and on Deer Isle, Maine, where he and his family have a log cabin.Bill's paintings and adventures as an artist can be seen on his blog; www.POSTCARDSFROMPHILLY.BLOGSPOT.COM .
MICK McANDREWS – Born and raised in northern New Jersey, Mick McAndrews has lived in the Brandywine Valley for the last 25 years. He has participated in workshops with several renowned contemporary painters whose guidance and style have influenced his artistic development. Ultimately, Mick believes that the work itself serves as the best teacher. Mick is a signature member of the Philadelphia Watercolor Society and the Baltimore Watercolor Society. He is also a member of the Pennsylvania Watercolor Society, the American Watercolor Society, the Mid-Atlantic Plein Air Painters Association and the French Creek Art Colony. Mick's watercolor art interprets realistic landscapes, seascapes and cityscapes making use of personal insight and a reverence for the principles of design. He is ever inspired by the natural landscape of the Brandywine Valley, Maryland's Eastern Shore, the rugged New England coastline, and travels abroad. Much of Mick's recent work has been completed "en plein air," inspired by the surrounding outdoor scenery and activity. To learn more, please visit Mick's website www.mickswatercolors.com. Mick can be reached at mickswatercolors@gmail.com .
CAROL KARDON attended Bennington College, the Art Students League, the Barnes Foundation, and the University of Penn Graduate School of Fine Arts. She works in both oil and pastel and focuses on landscape and still life. Recently she was designated a "Master Pastelist" by the Pastel Society of America. She has received over forty awards, including a Pew FoundationGrant, and has had numerous one-person shows. She teaches and is presently associated with the Carspecken-Scott Gallery, Wilmington DE, the Cooper Gallery, Lewisburg,WV and the Great Frame Up, Wayne PA. Carol can be contacted at cfkardon@aol.com. To learn more about this artist or to view additional works, please visit her website www.carolkardon.com .
FRED DANZIGER – A native of Pittsburgh, Fred Danziger received his formal training at the Pennsylvania Academy of the Fine Arts where he received
the Cresson and Scheidt Travel Scholarships. He is also the recipient of a grant from the Louis Comfort Tiffany Foundation. Fred has exhibited widely with over
20 solo shows in Philadelphia at LaPelle Gallery, Pittsburgh at James Gallery and in New York City with Sherry French and Katharina Rich Perlow Galleries.
His work is shown in numerous public and private collections including The Philadelphia Museum of Art, The Pennsylvania Academy of the Fine Arts, The Woodmere Museum, The Noyes Museum, The Berman Museum at Ursinus College, The Asheville Art Museum and The Wichita Kansas Museum of Art.
Fred has also been a faculty member at The Art Institute of Philadelphia, The Pennsylvania Academy of the Fine Arts, Rosemont College and Rutgers University. A complete biography can be found at www.freddanziger.com
LEST WE FORGET
BEVERLY FULLER GARNETT, 1938-2006. Beverly was a passionate plein air painter, accomplished portrait painter and gifted teacher. A graduate of the Pennsylvania Academy of Fine Arts, Beverly returned to Pennsylvania where she had grown up in Valley Forge after living in Vermont for eight years and opened the Windy Bush Gallery in Solebury in November of 1993. Her love for landscapes inspired the theme for the Gallery's first exhibit. When not running her Gallery, Beverly could be seen standing at her easel painting New Hope, the Delaware River and the Canal, as well as farms and foxhunters, of which she was one. Continuing her love for landscapes, Beverly became one of the earliest members of the French Creek Art Colony and the "Professor" from PAFA who taught credit courses in New Hope, PA, inspiring so many artists in growth and expression. She is deeply missed.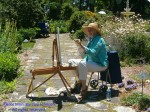 Beverly at Gibraltar Garden 2006.
EMERITUS
PEGGY BINNS was launched into the world of art from Virginia Commonwealth University. She subsequently studied with Ed Whitney in Maine as well as with Carolyn Wyeth and Domenic DiStefano in Pennsylvania, and has participated in workshops in the northeast throughout her career. A resident now of Virginia, Peggy enjoys capturing the local landmarks and beauty that surround her. Peggy's paintings have been selected for many exhibitions, including the Valentine Museum in Richmond, Virginia, the Salmagundi Club in New York City, the Berman Museum in Pennsylvania, and numerous juried shows. From among the nationwide Grumbacher Gold Medal winners, her painting was selected for the annual Grumbacher Calendar. Another work was chosen from entries from five watercolor societies for inclusion in the CONSOL Coal Group's States of Color. Peggy is a signature member of both Philadelphia Water Color Society and Pennsylvania Watercolor Society. A member of the American Watercolor Society. she is a charter member of the National Museum of Women in The Arts.
ANNETTE LeMAIRE's passion for painting is primarily through pastel. One reason for the attraction to pastel has to do "with their immediacy and their luminocity." While nature and the local landscape provide much of the inspiration for her paintings, further inspiration comes from her travels, especially to the western states where "color is seen in an entirely different light." In addition to her years in the French Creek Art Colony, Annette is a prior member of the Chester County Art Association, where she has earned multiple awards, Artists Circle, Artists Equity, Delaware Valley Art League where she served on the Board, Network (a critique group), and others. A resident now of Colorado, Annette's work can be found in numerous private collections throughout the country.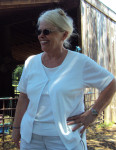 .
To see reviews about the Artists or this Website, please click here.